D and I have now lived in the Seattle area for nearly three months. It's hard to believe that we've been here both that long and short of a time. Although we don't actually live in Seattle (we live in a suburb just east of Lake Washington), I currently attend school at North Seattle College, and go into the city at least four days a week. We often spend parts of our weekend in the city, so it feels like we do live in Seattle.
I've discovered so many things that I love in this short amount of time, including restaurants, jewelry stores and boutiques, and chocolate (the most important thing, right?!). I wrote about
my love of Seattle a few years ago
, back when my good friend used to live here and I visited all the time. But that was then, and Seattle was magical because it was a vacation destination. Now, I live here and get to visit it whenever I want!
By the way, I've stopped taking pictures of foods and dishes when I go out to eat (unless it's for a really special reason) because I find it's pretty obnoxious to: 1) the people I'm dining with, 2) the people serving me the food, 3) the people I'm dining next to, and 4) the food itself (it gets cold!). So, you'll have to forgive the lack of personal food photos and just imagine all of the delicious things I've been consuming lately.
What I love about Seattle:
Kick It Boutique
: I visited this fun store two days in a row because of their amazing buy one, get one free legging sale (yes, really!). But besides that, they have lovely clothing that is actually reasonably-priced -- something I never thought I'd say about a boutique located in Ballard!
PonyTail Jewelry
: This jewelry store is a sister shop to Kick It, and I originally went there with D to browse for possible Christmas presents. I found so many beautiful pieces (they focus on local, handmade jewelry), it was hard to choose just one, and I'm sure we'll be back for Valentine's Day.
Razzi's Pizza
: They have a completely separate gluten-free kitchen, and a gluten-free and vegan menu. Their pizzas are aMAZing, and I really have nothing but good things to say about this restaurant. It's great to find a yummy gf/v pizza shop where you don't feel like you're sacrificing taste because of dietary restrictions.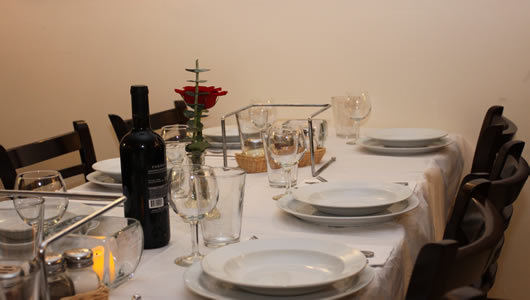 Miro Tea
: A lovely tea house nestled in the heart of Ballard, Miro gave me the best tea latte I've had in a long time, if not ever. It was made of rooibos tea (one of my favorites!) and spices mixed with hemp milk (they also have almond and rice milks available). It was soo good, and such a relaxing place to rest after walking around.
Rancho Bravo
: This is not somewhere you want to go on a first date, but it IS where you want to go if you want to enjoy delicious tacos with a fantastic vegetable medley and cheap prices. There are a few locations, and we went to the one that's housed in a former Winchell's Donuts. There is only outdoor seating, so I suggest getting it to go and then hopping back into your car to enjoy.
Farmers' Markets in December
: I'm sure the folks tending the booths were FREEZING, but it was a delight to find a winter farmers' market in Ballard. This one had a good selection of farms, bakeries, wineries, housegoods, and other food-related vendors. We got there right as it was closing, but I'm sure if we had explored it a little sooner, we would have had access to even more awesome December produce and goodies.
Photo credit: https://foodlustandwanderlust.wordpress.com/2012/08/12/i-should-not-have-done-that-ballard-farmers-market-edition/
Soulever Chocolate
: At the aforementioned December farmar, I discovered my new favorite chocolatier. All gluten-free, and nearly all vegan (get the honey-less chocolates!), this vendor had chocolates that blew my mind. I can't wait to go back and have more.
Flying Apron
: Always consistently good, this gluten-free and vegan bakery is a common stop for D and me. We like the location in the Fremont area, which is near all the great shops in that neighborhood. I can count on getting a slice or loaf of delicious bread and some curried lentil pie, and my day is guaranteed to be happier for it.
Theo Chocolate
: Some of the only soy-free, fair-trade and organic chocolate to be found, it's also delicious and made right here in Seattle!
I'm sure, the more time I spend here, the more I will discover. I can't wait to see what's in store for me in this lovely new city.